Manage Hotspots and Technical Debt with Goals¶
CodeScene lets you add contextual information to the analysis data as specific _goals_. In combination with the hotspot analyses, CodeScene's goal-oriented workflow serves as a framework for managing technical debt and code quality issues, from detection to action.
Specify Contextual Information¶
Context matters:
What features do you plan to implement next and what parts of the system will they affect? If you know a particular module requires an extension, you might want to start by a set of pro-active refactorings to make the new feature cheaper and less risky to implement.

There's always a trade-off between adding new features versus improving existing code. So how much can you spend on re-work and improvements?

Finally, there's a decision to be made on when is a piece of code is good enough.
By planning a goal, you specify such contextual information which is then processed as part of the analysis. This means that the analyses are aware of your goals and can measure the progress towards them. Let's get started with an example.
Manage Your Goals From The Dashboard¶
Most of the time you will interact with the goals via the virtual code reviewer or the Code Health view. But you can also get an overview of all goals and administrate them on a separate dashboard as shown in Fig. 42.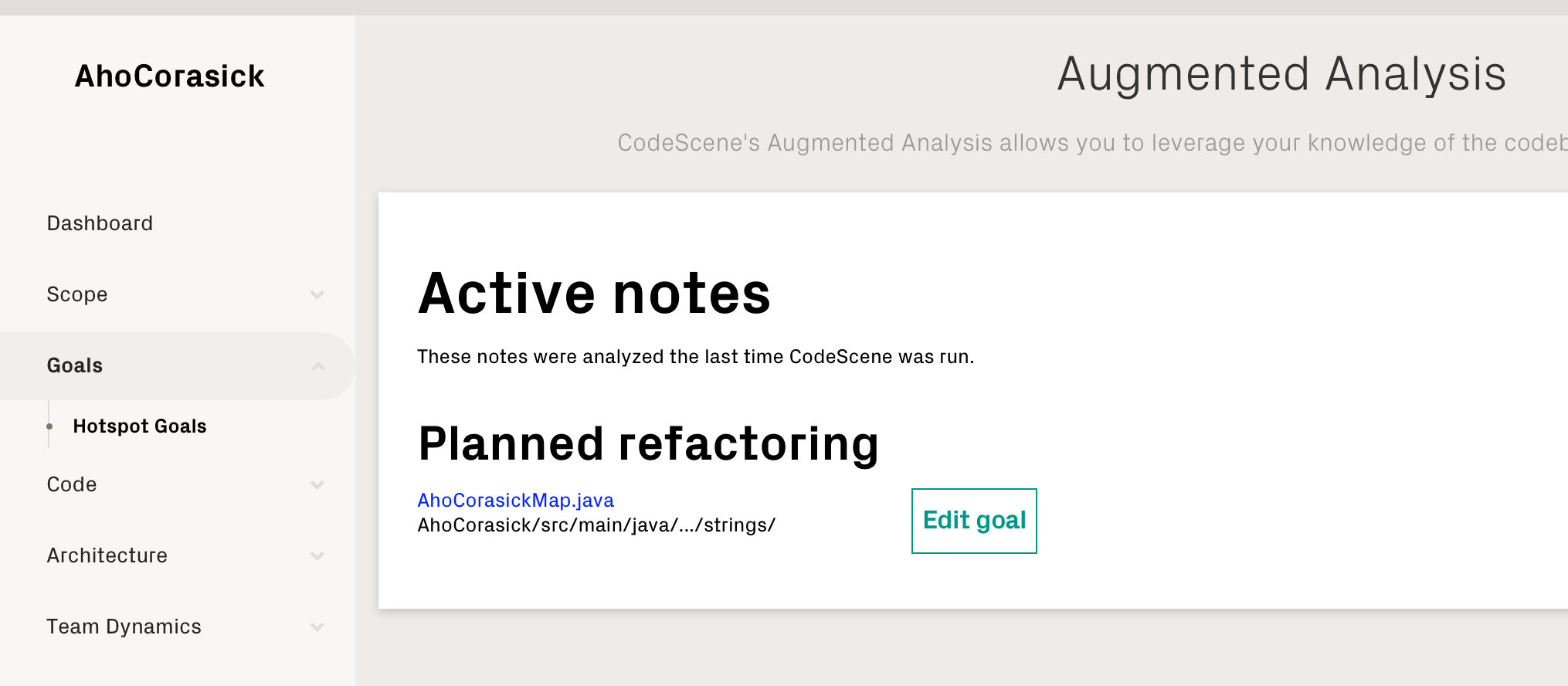 The dashboard is particularly interesting for the hotspots classified as No Problem as they won't show up in the other analyses unless CodeScene found a growing problem in them.
Know The Edge Cases When Tracking Hotspots¶
CodeScene does its best to track the goals you have attached to hotspots even if you move or rename the hotspot files. However, in some situations this isn't possible. The reasons are due to the way Git works.
When CodeScene cannot find the file referenced by a goal, that goal appears in the list of "Lost Notes" in the Hotspot Goals Dashboard.
The interface for lost goals lets you to decide what to do:
A file has been removed from the project. If this is the case, it's time to remove the note as well. Just click on the Pen icon and select "Delete".

A file (or an ancestor directory) has been renamed or moved. You should create a new note through the usual procedure, then delete the lost note.
The following situations are known to cause a lost goal:
Deleted content: The most common reason for a lost goal is that the original hotspot has been deleted.

Two-step renaming of content: Normal file renames work fine, but if the deletion step and the adding of the new file are performed in separate commits then CodeScene won't be able to maintain the link from note to content.