From Code to Delivery: the 4 factors model¶
Modern software development is an intricate coordination between people, code and the business. Within this space, CodeScene has identified 4 factors essential to successful software development:
Healthy Code that's easy to evolve as business needs change,

strong Knowledge Distribution where the team has a high familiarity with the code,

the Team/Code Alignment matches the way the system grows, which leads to

an efficient Delivery with short time-to-market and mature product experience.

These for 4 factors represent the intersection of code and people. The main dashboard presents the status of all your CodeScene projects. Click on them to view details and recommendations on the dedicated interactive project dashboard.
CodeScene also offers a software portfolio view, giving you a complete overview of all your projects.
Interactive dashboards with actionable recommendations and feedback¶
The 4 factors are visualized together with actionable recommendations and feedback as part of the team's existing workflows. That way, both technical and non-technical stakeholders know the risks as well as where you are heading.
We also acknowledge that trends are more important than absolute values: no matter where you start from, you never want your code or development to get worse. Hence, each factor comes with a fast-moving trend:

This combination of high-level metrics, interactive analysis views, and fast-moving trends enables continuous feedback, be it for refactorings, organizational change, process improvements, or any other actions.
Warning, risks, and improvements: Each factor comes with feedback on risks and alerts, but also positive reinforcements such as successful refactorings: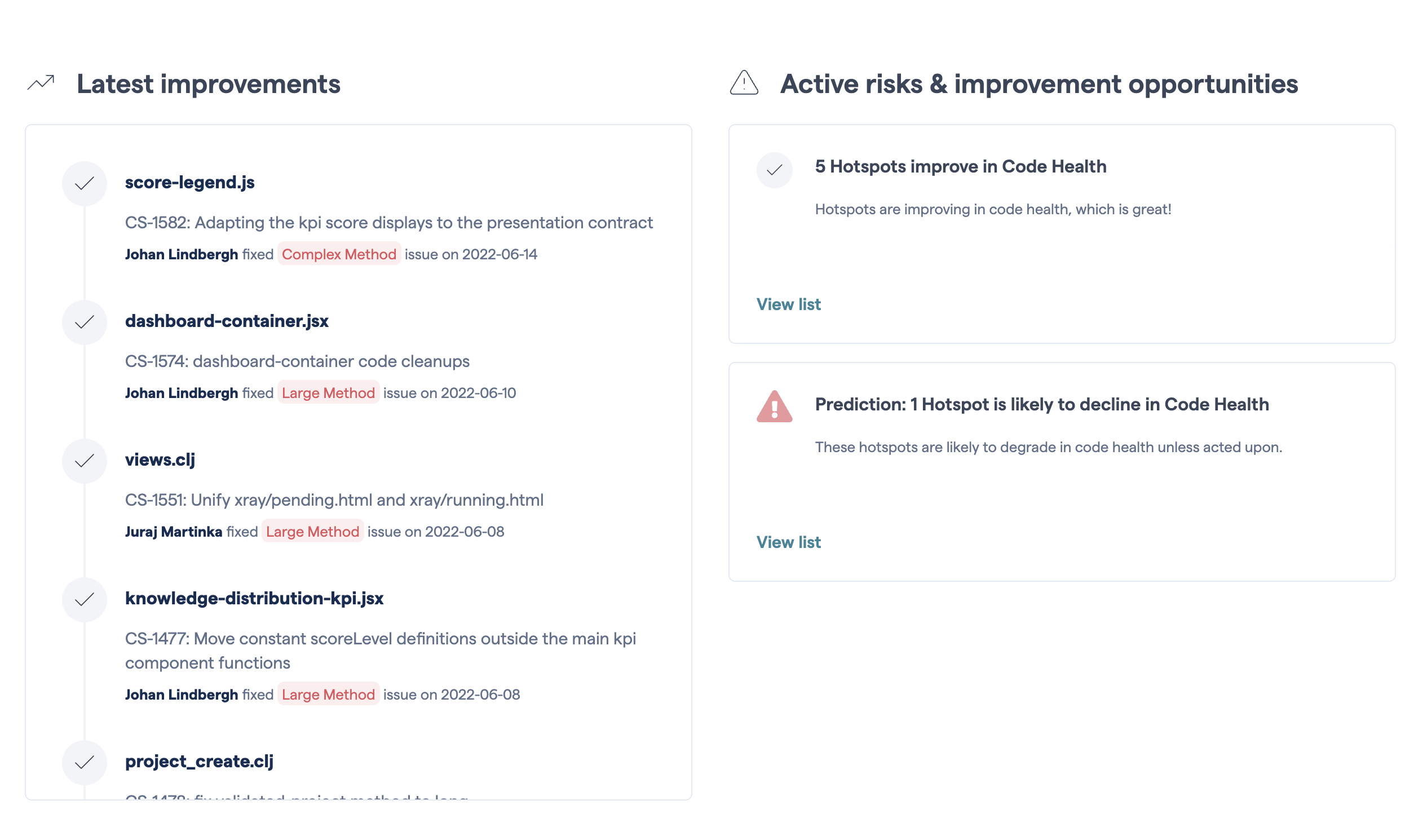 Dig deeper with dedicated focus areas: Each factor offers a set of focus areas where you explore the analysis in more detail using the interactive views: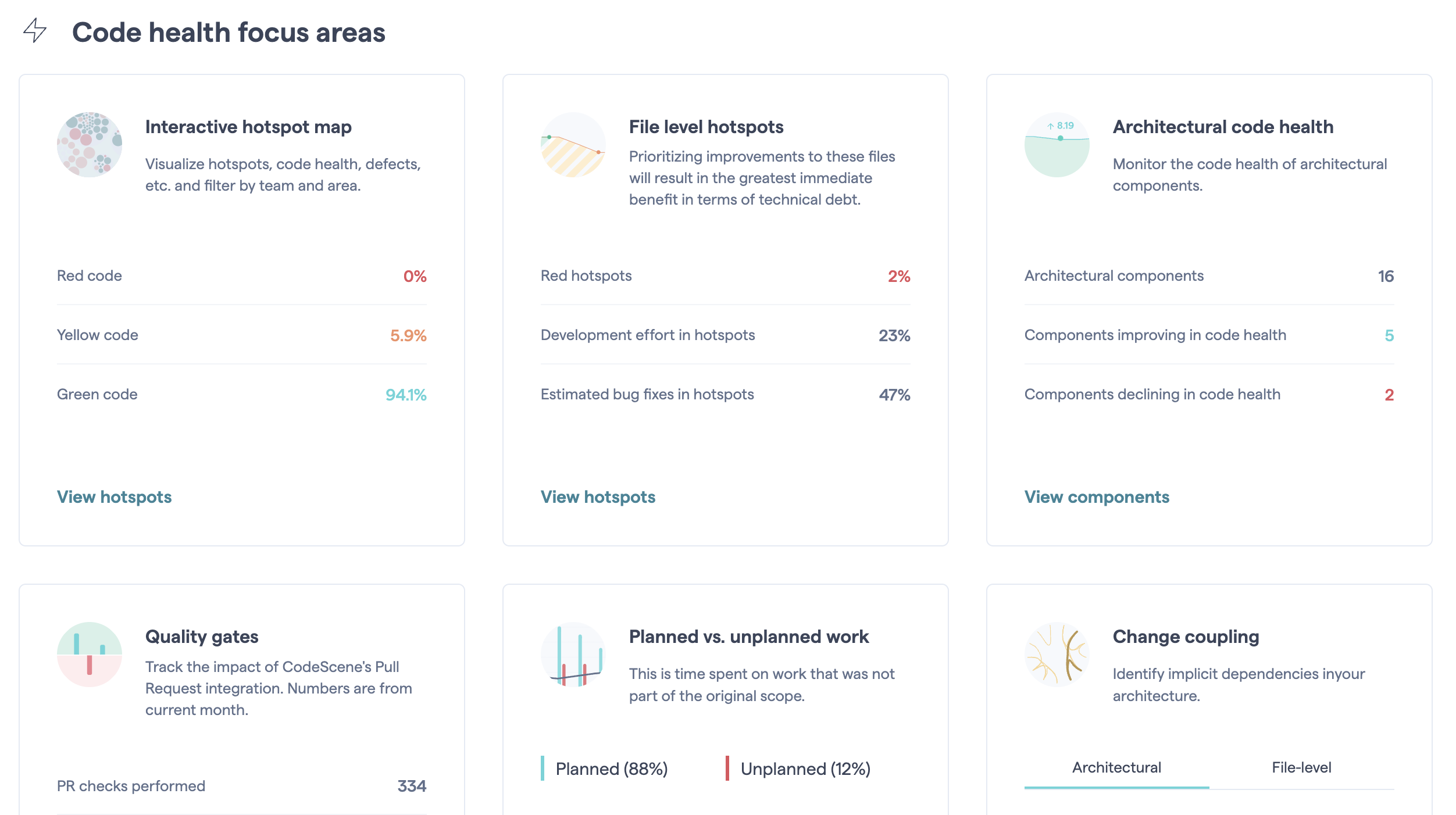 Personalized dashboards: The CodeScene dashboards are interactive and allow you to:
Filter by development team: By default, CodeScene presents the overall metrics for the whole codebase. To act upon them, filter by team so that each team gets their own personalized dashboard.

Switch time span for trends and metrics: CodeScene lets you toggle the time span to inspect how a particular factor – e.g. code health, knowledge, or delivery – has evolved over time relative to the baseline.
Why 4 factors?¶
The 4 factors are inter-dependent where the first three are directly influenced by technical and organization decisions, and the last one (Delivery) is an output metric.
Healthy code is the foundation for all factors. However, an unmitigated weakness in another area puts the project at risk. As an example, consider a codebase with healthy code. If the original team is off-boarded and replaced with a new team, then that will impact the delivery efficiency. Time has to be allocated for on-boarding and learning.
On a similar note, we can do well on the code health factors and have a good knowledge distribution, but if the way we are organized into separate development teams is at odds with the software architecture, then the resulting coordination overhead will impede the overall progress.
Software development is multi-facetted, and the 4 factors give you a hoistic overview of the essentials.
What separates CodeScene from other tools on the market?¶
CodeScene differs from static analyis tools like SonarQube, CAST, and Code Climate in three important ways:
we include people factors like code familiarity and knowledge distribution,

we prioritize all findings based on how you – as an organization – works with the code, and

we base our alerts and quality gates on trends rather than absolute values.
This is impoartant since technical debt cannot be prioritized from code alone. CodeScene's appoach makes sure that our recommendations are both actionable and relevant from a business perspective. This is possible by combining code analysis with data from Git and project management tools like Jira.
CodeScene also differs from engineerng efficiency tools like Pluralsight Flow, Velocity, Swarmia, etc. by having a deep understanding of the source code. This makes our data actionable in that we can link inefficiencies to specific areas of the code, and also prioritise organizational risks – like key personnel dependencies – based on the quality of the impacted parts of the code.
Finally, but nonetheless critical, CodeScene has the only validated code health metric; CodeScene's code health measure is known – from large-scale research – to correlate with shorter development times and fewer defects.
Exploring the 4 factors¶
This document walks you through the core of the 4 factors model. All details on how the factors are measured and the scales used for baselining are included in the UI itself.